YOUR SUPER MIXES: HOW & WHEN TO USE THEM

Want to make superfoods a part of your daily routine? Follow this guide for the best times to use our superfood powders and plant-protein mixes.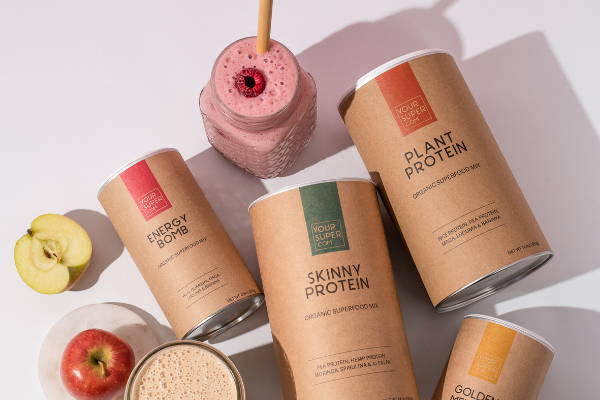 When it comes to good nutrition, there are a variety of nutrient-rich foods you can add to your diet. But unless you're eating a ton of veggies, fruits, and grains each day, it can feel impossible to get what your body needs…
So, we created superfood mixes to help you get your daily intake of essential vitamins, minerals, and plant protein. They're easy to use and are packed with health-supporting benefits.
But, when is the best time to use each mix? 
We're so glad you asked!
While most of our mixes can be used throughout the day, there are some that have natural caffeine, and others that contain calming adaptogens. To help you navigate our superfood mixes and plant-protein powders, we've broken them down into three lists.
Here's the best time of day to use each mix...
Energy Bomb: Say goodbye to the 3 p.m. slump! This energizing blend contains powerful guarana – a natural caffeine source that will boost your energy levels for up to 8 hours, without the terrible crash and jitters. Guarana has also been shown to improve focus, making this mix our morning go-to. Enjoy Energy Bomb in the morning as a healthy coffee replacement or in bliss balls for a midday energy boost.
Power Matcha: Matcha contains natural caffeine, high amounts of antioxidants, and countless micronutrients for long-lasting brainpower, making it the perfect morning pick-me-up to start your day. Power Matcha can be used to make a classic cup of tea, latte, or use it in oatmeal for an energizing breakfast!
Moon Balance: This female-focused blend has quickly become a fan-favorite, and it's easy to see why! The fruity and floral flavor makes it the perfect addition to your morning latte, oatmeal, smoothie, or daytime snacks. Although it doesn't have any caffeine, it can provide a small boost of energy, because it contains maca – an adaptogenic herb. (However, not everyone is affected by it.)
Plant Protein: Hitting the gym? Need a boost of energy? Looking for plant-based protein? Then you need to add Plant Protein to your morning routine! The perfect combination of plant-based protein and energizing superfoods, it's a must have for your morning sweat sesh. You'll get a boost of natural energy from maca, which also makes it the perfect morning mix. Not to mention it's a great addition to your afternoon snacks.
Super Green: Do you have trouble getting in your leafy greens? No problem! Super Green is the easiest way to increase your intake of nutritious greens and essential vitamins and minerals. Plus, this mix is incredibly versatile. It goes great in soups and pasta, or smoothies and bliss balls. Or, enjoy it as a shot for a boost of plant-powered nutrition!
Plant Collagen: Ready for your glow up? This creamy, vanilla mix goes great in just about anything! Enjoy the beauty-boosting benefits of Plant Collagen any time of day in smoothies, lattes, baked goods, and more. (Think of it as another step to your beauty regimen!)
Forever Beautiful: Orange juice for breakfast? No way! Get your vitamin C from Forever Beautiful. This beauty blend is the perfect way to nourish your skin from the inside out. Because of its berry taste, this mix goes great in water, smoothies, and oatmeal. Use it in the morning or afternoon for a boost of powerful skinfoods!
Chocolate Lover: The perfect remedy for any sweet tooth! This feel-good mix is great for all sorts of healthy treats and snacks. Rich in antioxidants and mood-boosting cacao, Chocolate Lover can be enjoyed at any time of day. Click here for our favorite rich-chocolate recipes!
Skinny Protein: Did you know that adding extra plant protein to your diet can prevent you from snacking in-between meals and help you control your hunger? (It's one of the reasons we love Skinny Protein in our morning smoothie!) Bonus: it will keep you fuller for longer and speed up your metabolism! Enjoy it after a workout or between meals.
Golden Mellow: Formerly known as Mellow Yellow, our Golden Mellow mix will help you find the calm in the chaos. This mix contains ashwagandha – an adaptogenic herb used to reduce stress and promote relaxation. Because of this, we recommend using Golden Mellow at the end of your day. (But don't worry, this mix won't make you drowsy, so you can use it any time of day.) Try it in your favorite plant-based milk for a calming latte in the afternoon or before bed.
Magic Mushroom: Our Magic Mushroom mix tastes like hot cocoa, but is loaded with health-supporting benefits. Just like Golden Mellow, Magic Mushroom contains calming ashwagandha, and stress-reducing properties. Enjoy it any time of day or before bedtime for a relaxing, chocolatey treat! Find tasty Magic Mushroom recipes here.
Interested in learning more? Just go to www.yoursuper.com to explore our superfood mixes, snack bars, and recipe e-books!
When do you enjoy your favorite mixes? And what's your go-to recipe? Tell us below!
Take your health into your own hands with the Ultimate Health Bundle! This bundle features 8 functional superfood mixes designed with specific functions and benefits to improve your health.