WHY YOU SHOULD CONSUME 5 SERVINGS OF SUPERFOODS PER DAY

It may sound like a lot, but eating 5 servings of superfoods per day is totally achievable. In fact, we recommend it! This is why...
You've heard the saying "an apple a day keeps the doctor away" but here's something you may not know: the same expression applies to superfoods!
While it's true that no one food is a medical cure-all, multiple scientific studies have shown that superfoods can be beneficial to your health – especially when consumed regularly.
Here at Your Super, we recommend getting at least 5 servings of superfoods per day. Why 5? We're so glad you asked!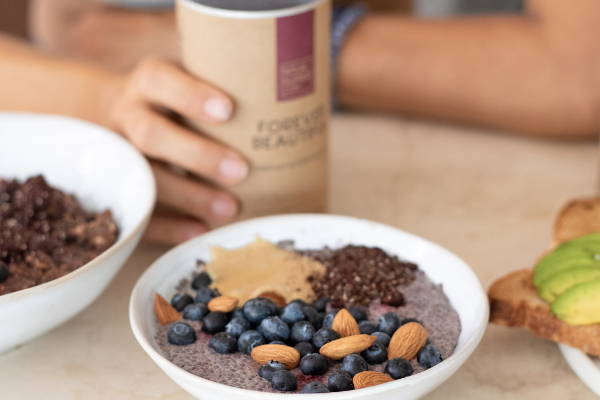 WHY YOU SHOULD STRIVE FOR 5 SERVINGS A DAY

---
YOU WANT TO FEEL YOUR BEST

No matter what your health goals are, consuming superfoods regularly is an easy way to feel your best inside and out.
Consuming superfoods at least 5 times per day allows your body to fully absorb the nutrients, so you get the most out of each ingredient. Think of them this way: one glass of water might quench your thirst - but 8 glasses of water can soothe joints, improve kidney function, and clear your skin.
Basically, the more you eat, the better you'll feel!
YOU DON'T EAT PLANTS FOR EVERY MEAL

Let's say you had toast for breakfast, soup for lunch, and pasta for dinner. Sounds like a pretty delicious day, right? There's just one thing missing...PLANTS! Without plants you may be missing essential vitamins and minerals in your diet.
Superfoods are a convenient way to add plants to every meal. You don't have to chop numerous veggies or juice celery stalks to feel healthy. Just add a serving of superfoods to your favorite foods and drinks for a boost of essential nutrients. So, how much is in a serving? For most of our mixes, 1 tsp = 1 serving. Although, our protein powders call for 2 tbsp per serving.
(Keep reading to learn how to add superfoods to your favorite recipes!)
YOU MAY BE NUTRIENT DEFICIENT

Did you know? Around 92% of the U.S. population is suffering from at least one mineral or vitamin deficiency. (Yes, omnivores too!) This means your likelihood of being deficient in essential nutrients is pretty high.
But fear not! Consuming at least 5 servings of superfoods per day can help make up for deficiencies in your diet. Superfoods are nutritional powerhouses, meaning they're jam-packed with vitamins, minerals, antioxidants, natural enzymes, healthy fats, and more. Think of them as the superheroes of the plant world. But instead of fighting crime, superfoods fuel your body with the nutrients it needs to thrive. (HI-YA! Take that deficiencies!)
THE EASIEST WAY TO GET 5 SERVINGS PER DAY

Need help getting your 5 servings of superfoods? Follow our simple tips for adding superfoods to every meal. (Trust us, it's easier than you think!)
---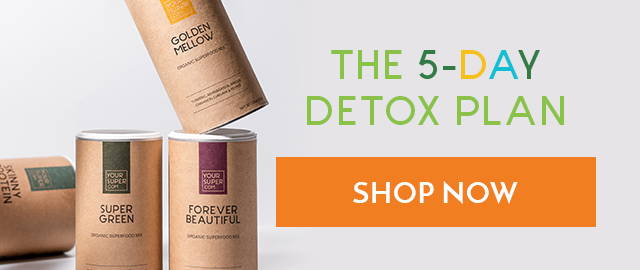 ---
ADD SUPERFOODS TO RECIPES YOU CONSUME DAILY
You don't have to eliminate your favorite foods and drinks to make room for superfoods. Just add Your Super mixes to your go-to recipes! This allows you to enjoy your favorites while getting a boost of nutrient-rich superfoods.

Looking for inspiration? Check out our blog for simple, delicious recipes. Whether you're looking for dinner ideas, savory snacks, or the cure to your sweet tooth – there's a recipe for everything.
SET A REMINDER
Everyone needs a little nudge sometimes, and that's okay! Just like setting a reminder to drink water, we recommend setting one to eat superfoods. This can align with your meal times so you don't have to guess how you'll get your servings in. Simply set a reminder in your phone's alarm clock to eat at the following times:  
Breakfast

Lunch

Snack

Dinner

Evening dessert or calming latte
FIND AN ACCOUNTABILITY BUDDY
What's better than a friend who lifts you up and encourages you to be your best self? That's exactly what you'll get from our Exclusive Member Facebook Group! It's the perfect place to get inspired and connect with like-minded people looking to improve their health. You'll find tons of support, helpful tips, and may even make lifelong friendships.
BECOME A SUBSCRIBER
The easiest way to get '5' a day? Become a Your Super subscriber! Your favorite mixes will automatically be delivered to your door so you'll never be without your super pow(d)ers. Here's what you get when you become a subscriber:
Our lowest rate guaranteed — 20% off every order, every month!

100% customizable shipments — order only what you need.

Have enough product this month? Simply skip a shipment!

Earn double rewards points for

every

purchase

Access to exclusive, members-only content
PLUS! Get a free surprise mix when you sign up for auto-delivery! Are you ready to join the thousands of satisfied subscribers? Click here to get your free mix!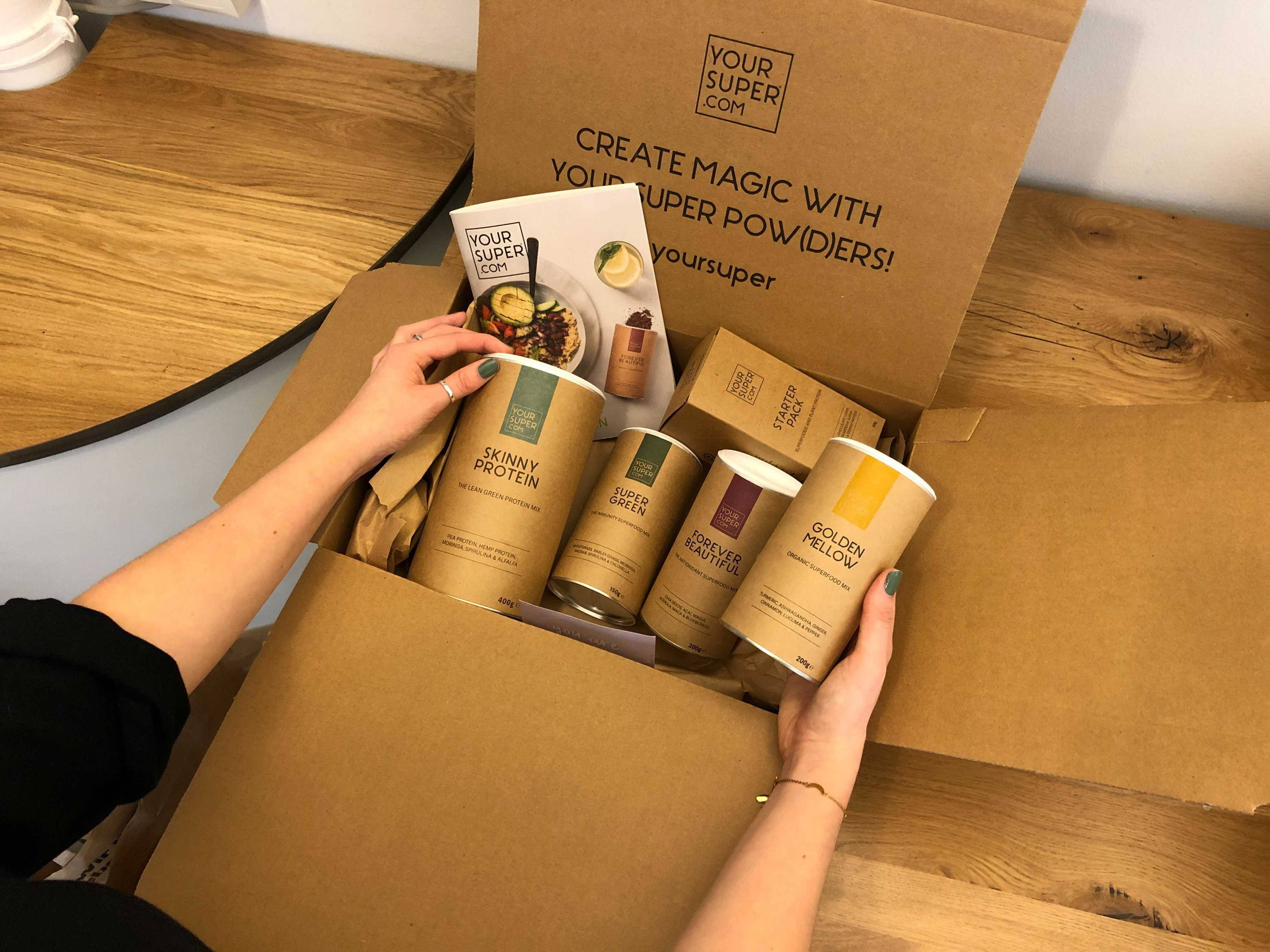 ---
Is the '5 per day' recommendation for a single mix or multiple mixes?
You can use your favorite single mix or mix and match multiple mixes to reach 5 servings a day— the choice is yours! As a reminder, 1 tsp = 1 serving, except for our protein mixes which call for 2 tbsp per serving.
Is '5 per day' the minimum or can you consume more?
We think 5 servings each day is the perfect amount, but feel free to adjust to your needs. Some customers like to use between 7-10 Your Super mixes in one day, just remember that your body can only consume so much at a time so the excess will come out as waste.
When will I notice a difference in my health?
81% of our customers said they felt a difference within 2 weeks! Results vary but if you are consistent you may start to feel the results in 3-5 days.

Have more questions? Check out our FAQ page here!
---
Support your health with The Detox Bundle! This bundle includes 3 powerful, superfood mixes designed to
reduce cravings, increase energy, reduce bloating and fight inflammation.