WHAT HAPPENED WHEN I TRIED THE 5-DAY DETOX
Curious about Your Super's 5-Day Detox plan? Will you have cravings? Worried about caffeine withdrawals? And what do you eat? Here's what happened when one woman followed the 5-Day Detox.
---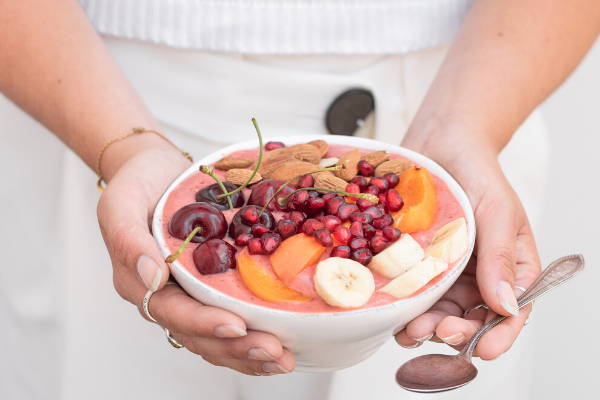 So, you want to detox? But for some reason, you're not entirely convinced it will work. That's why you're reading my story, right?

I get it. I wasn't convinced either.

Compared to most people, my diet's pretty clean. I've followed a low-fat, plant-based diet for nearly 6 years and I've lost over 30 pounds — all without counting calories or macros.

But as a woman who has struggled with her weight for most of her life, I understand the appeal of a 5-day detox. Just follow this plan, that actually includes food, for 5 days and you'll lose weight, have more energy, have less cravings and more!? Sign me up!

Was I thrilled about doing a detox? Not really, especially the no caffeine part. Diet soda is my one vice — I don't drink alcohol and I don't drink coffee or tea of any kind. Five days seemed like forever without having my beloved nectar. BUT I also had to remind myself it was just 5 days, what's the worst that could happen?
I planned to start my detox on a Monday, so I decided to grocery shop on Saturday. Before grocery shopping, I read through the 5-Day Detox e-book, which is loaded full of helpful tips and lots of detox-approved recipes.

Instead of following Kristel's exact meal plan (which is included in the 5-Day Detox e-book as well as an exact shopping list), I decided to "create my own adventure." I picked out which smoothies sounded good (there's a lot to choose from, so it was really hard to decide!) and came up with my own salad recipes. (I've been meal planning for about 5 years, so if you don't enjoy making your own shopping list or finding your own recipes, I highly suggest following the plan in the e-book. It's super easy to follow and you'll be less overwhelmed and stressed out!)

Between shopping at a local market and Trader Joe's, I was able to get everything for the detox for less than $50. Not bad for 15 meals, right?

On Sunday, I prepped my salad and froze all the bananas I was going to need. (Pro-tip: Peel the bananas first, then freeze them.) I also had what I call "The Last Supper," which was an indulgent vegan meal at a local restaurant.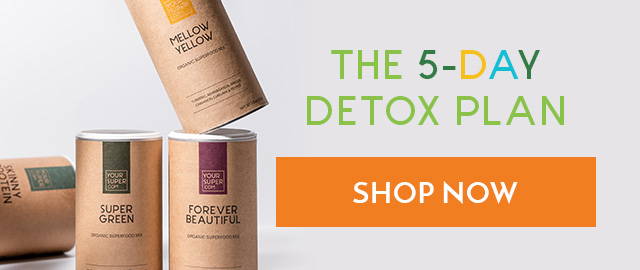 The first day of the detox arrived and I was feeling very meh — I blame all the food I ate the night before. After showering and going to the bathroom I weighed myself and took my "before" pictures. (You don't have to do this, but Kristel suggests it in the 5-Day Detox e-book, so I thought I might as well.)

I waited as long as I could to eat my Green Sunshine Smoothie, which was about 9:00am. It took about 30 minutes to eat, probably because I used a spoon. My usual breakfast consists of 2 homemade, plant-based muffins. So needless to say, a green smoothie was a radical change for me. I've never had a green smoothie before — they scare me. (Weird, I know.) Even though it wasn't super sweet (which is how I like most things), I was pleasantly surprised by the taste. I couldn't even taste the Super Green mix.

I usually take my lunch around 1pm, but I only made it to about 12:45pm. I was HUNGRY, but I also didn't eat any snacks between breakfast and lunch. I completely devoured my salad, which was a Rainbow Salad (tomatoes, sweet potatoes, bell peppers, salad mix, blueberries, roasted beets, and quinoa) I came up with on my own.

From about 3pm-5pm I was feeling really tired and struggling to get any work done. My caffeine-withdrawal headache (which I was expecting and knew it was a potential side effect) kicked in around 5pm, but I drank more water so it was short-lived.

By the time I got home around 6:45pm, I was weary about the berry smoothie. (I wasn't completely blown away by my breakfast smoothie, hence the skepticism.) Unlike my morning smoothie, which I made in my little Ninja Bullet, I made the berry smoothie in an actual blender. WHAT. A. GAME. CHANGER. Unbeknownst to me, I used the "whip" setting and the end result was pure MAGIC.

My Mixed Berry Vanilla Smoothie (I used the Blueberry Vanilla Smoothie as a template) was like eating frozen yogurt. Seriously, I was in heaven and this is when I knew I wouldn't be miserable for the next 4 days.

In general, I wasn't really feeling hungry. I only had half of the Green Sunshine Smoothie for breakfast and I barely ate half of my salad. Overall, I felt very tired.

Seriously, this was me at lunch:

I wasn't sure if that was because I didn't get enough sleep the night before (I was up late) or if it was the detox (low energy is also normal) or a combination of the two.

The caffeine withdrawal headache came around 4pm today.

I did, however, eat all of my Berry Smoothie. (Because it's freakin' delicious.)

Day 3 was definitely my "tired of the same routine" day. I was feeling restless eating the same salad and green smoothie, so I decided to try something new.

My morning smoothie today was the Fruity Green smoothie. I subbed pineapple for the kiwi because I'm not a fan (and I love pineapple). I'm also learning banana smoothies are the key to making any smoothie taste good, especially green ones.

The second switch up today came at lunch. I wasn't really feeling a salad, so I roasted some veggies and potatoes. It may not be your typical "salad," but it was in a bowl, so that counts, right?

I was hungrier today than I was on Day 2, but still didn't feel the need to have a snack.

Dinner, of course, was my detox BFF: Mixed Berry Smoothie.

By the time Day 4 rolled around, I was feeling great! My headaches were non-existent, I wasn't hungry, and I wasn't tired.

I had the Fruity Green smoothie again for breakfast — still tasted great.

For lunch I made a sweet potato fajita "salad." I basically diced 2 sweet potatoes and roasted them. I also made a fajita mixture of sliced onions and bell peppers sautéed in water and taco seasoning.

Dinner was, you guessed it, the Mixed Berry Smoothie.

I switched things up today and had my berry smoothie for breakfast instead of dinner. What can I say, I'm a rebel! (Don't worry, it's totally OK to do this and you won't mess anything up.)

Lunch was another potato and roasted vegetable bowl and dinner was my last and final Fruity Green smoothie.

After 5 days, I'm happy to say I lost 6 pounds. I know it was mostly water weight and inflammation (and probably some poop), but I was still surprised by that number.

While weight-loss is always welcome and my clothes fit more comfortably, I also felt better overall — I had more energy and physically felt lighter. I was also surprised that I didn't have any cravings and I wasn't hungry throughout the day — which says a lot coming from this bottomless pit. I also think having to prepare my smoothies for breakfast and dinner actually slowed me down and proved that hunger isn't an emergency (despite the noises my stomach is making).

Keep in mind this is just my experience — and there are lots of other positive benefits you can experience from the detox as well like less swelling and bloating, better sleep, improved focus, etc.

I also learned a couple of things about myself and my eating habits.


I don't drink nearly enough water.
Green smoothies aren't scary and actually taste good (with bananas).
As much as I loved the berry smoothie, I prefer chewing my food.
I can survive 5 days without diet soda.
I can do anything if I put my mind to it.
5 TIPS FOR THE 5-DAY DETOX
1. Everybody's detox is different.

I have to admit, I started to get nervous after reading some of the comments in the Facebook group. My advice: don't let that scare you away from not doing the detox. Aside from the occasional headache, I didn't experience any of the other side effects some people have (e.g. nausea, indigestion, flu-like symptoms, weakness, etc.). Whether this is because I've been following a plant-based diet for so long or not, your experience will be unique.


2. Plan ahead.


Select the recipes you want to make before grocery shopping so you know exactly what you're going to be eating and when. I can't even tell you how much time, energy and brain space this will save you.


3. Meal prep.


Trust me, the last thing you're going to want to do during this detox is cook every day. Save yourself the trouble and prep your meals in advance.


4. Drink lots of water.


I'm terrible at drinking water, and this detox reinforced that fact. Whenever I felt a headache coming on or I felt hungry, I would drink water — and it seemed to help.


5. Stick with it.


The first two days are the toughest, but once you hit day three, everything else is downhill. Remember: it's just 5 days. Stick with the detox — you'll be happy you did, I promise!
The 5-Day Detox has been bought over 100k times and is changing lives! This bundle is based on the detox Kristel created to help Michael rebuild his immune system following cancer treatment.

✅ Improve Your Health
✅ Reduce Bloating & Inflammation
✅ Enjoy Better Sleep
✅ Increase Your Energy Levels
✅ Support Your Immune System