5 Health Benefits Of Jerusalem Artichoke

Looking for a way to naturally improve your gut health? Look no further than Jerusalem artichoke! It can help you lose weight, is rich in fiber, and supports gut health.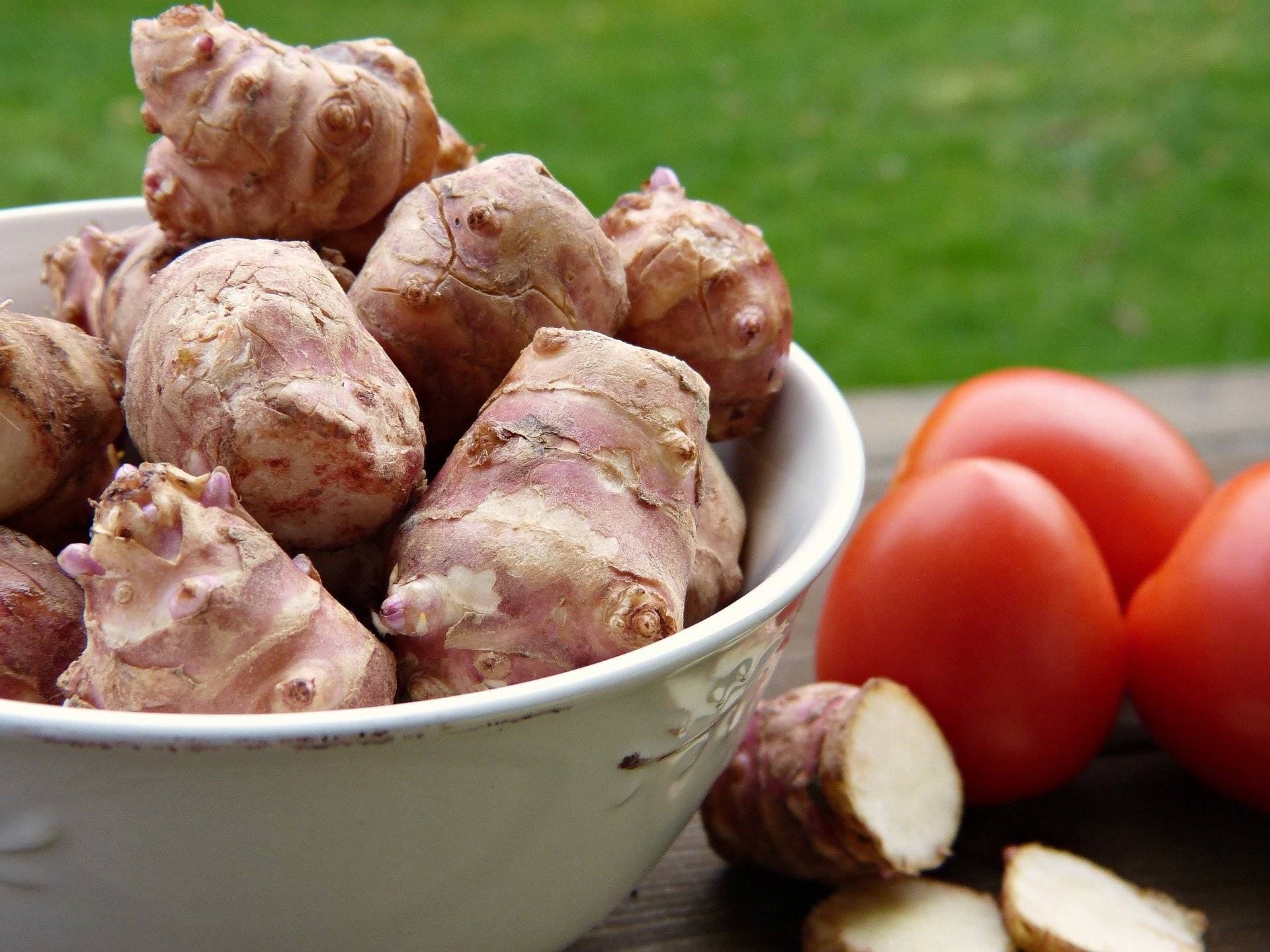 ---
Jerusalem artichoke is being touted as the hottest superfood lately because this tuber is filling, slimming, and keeps blood sugar levels steady. It's also rich in fiber, which means it's beneficial to the intestinal flora and helps support healthy digestion. Sound good? Find out more about the health benefits of Jerusalem artichoke.
WHAT IS JERUSALEM ARTICHOKE?

Jerusalem artichoke is not actually an artichoke, but a type of sunflower with a brown tuber that looks like ginger. It can be eaten raw or cooked, and when cooked, the white flesh has a creamy texture that can be enjoyed much like a baked potato. The white flesh is also a good source of iron and tastes nutty and sweet. Contrary to what the name suggests, this root vegetable has nothing to do with Jerusalem, but is derived from the Italian word for sunflower, girasole.  
WHY JERUSALEM ARTICHOKE IS HEALTHY: 5 BENEFITS

1. JERUSALEM ARTICHOKE KEEPS YOU FULL

Jerusalem artichokes contain a lot of dietary fiber, such as inulin, which swells in the stomach and digestive tract, creating a feeling of satiety. It also helps keep the blood sugar levels constant, which helps reduce sugar cravings. 
2. JERUSALEM ARTICHOKE IS FULL OF VITAMINS

Jerusalem artichokes provide many important B vitamins as well as vitamins C and D, and biotin. The vegetable is also rich in trace elements such as potassium. Because it consists of 3% protein, Jerusalem artichoke is also a great addition to plant-based diets.
---
3. JERUSALEM ARTICHOKE SUPPORTS THE MUSCLES

Iron is essential for strong muscles—and Jerusalem artichoke is full of it. Iron helps supply the muscles with oxygen. Without sufficient iron, muscles lose their elasticity, which can lead to muscle weakness. Jerusalem artichoke also contains a sufficient amount of thiamine, which is important for the production of the neurotransmitter acetylcholine. This transmits signals between nerves and muscles.
4. JERUSALEM ARTICHOKE HAS POWERFUL ANTIOXIDANTS

Jerusalem artichoke contains copper, one of the most powerful antioxidants, which helps protect cells from free radicals. Because free radicals can attack various organs and cells, they can also accelerate the aging process, which is why antioxidants are so beneficial. Raw Jerusalem artichoke contains 0.21 mg of copper, which is 23.33% of the recommended daily intake.
5. JERUSALEM ARTICHOKE IS GOOD FOR THE GUT

Jerusalem artichoke is full of inulin. This type of dietary fiber is a prebiotic, water-soluble dietary fiber. These type of dietary fibers can't be broken down by the human small intestine so they reach the lower parts of the intestine undigested. There they serve as food for the good intestinal bacteria, which help inhibit the proliferation of harmful bacteria in the intestinal flora, keeping it balanced. Beneficial bacteria like bifidobacteria are also responsible for producing antibodies, and regulating the pH level of the gut (thus preventing acidosis).
HOW TO GET YOUR DAILY DOSE OF JERUSALEM ARTICHOKE

Its impressive health benefits make Jerusalem artichoke a TOP superfood. That's why the tuber made it into our Grateful Gut Mix. This daily prebiotic mix contains 6 superfoods that deliver healthy dietary fiber and digestive enzymes to help naturally balance the gut flora and support digestion. Just add 1 tsp of Grateful Gut Mix to water, stir, and drink. It's the easiest way to experience some of the health benefits of Jerusalem artichoke while supporting your gut health.
---