SNACK HEALTHY: HOW TO FIND THE BEST NUTRITION BAR
These simple tips will help you navigate the snack bar aisle, so you can curb cravings and refuel without compromising your health.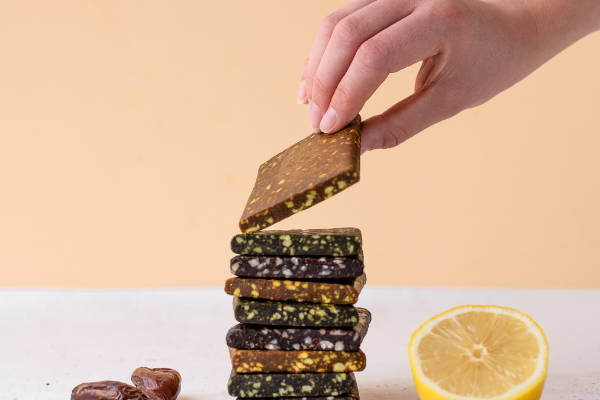 Have you ever bit into a snack bar expecting something filling and nutritious, but instead got a mouthful of sugar? With the added milk chocolate, rice crisps, and other sugary fillings – you're practically eating a glorified candy bar.
And let's be honest – that won't satisfy you, instead you'll crash and burn from the added sugar. Manufacturers slap on keywords like "natural" and "non GMO" to make you think you're eating something healthy, but oftentimes that's not the case.
According to nutritionist Kim Larson, RDN and spokesperson for the Academy of Nutrition and Dietetics, "Most of these snack bars are high in added sugars and total fat; some even have saturated fats (the kind we are supposed to keep to less than 10% of our total calories) and very little nutrition."
If you're looking for a healthy grab-and-go snack, try our three simple tips for choosing the best snack bar.
HOW TO PICK A HEALTHY SNACK BAR

Craving a nutritious on-the-go snack? Here's what to look for in the grocery aisle.
Watch Out For Hidden Ingredients
If you've ever read the back of a nutrition label you know how difficult it can be to decode the long list of ingredients. There are hundreds of different words for sugar, hydrogenated fats, and food dyes.
And while a snack bar might be labeled as 'natural' and 'healthy' its nutrition content can be anything but. Once you begin identifying ingredients, you'll know what to avoid and how to choose the healthiest option.
Here are the most common sneaky snack ingredients you should watch out for:
Sucrose (sugar)

Maltose (sugar)

Dextrose (sugar)

Fructose (sugar)

High fructose corn syrup (sugar)

Aspartame (artificial sweetener)

Yellow 5, Yellow 6, Red 3, Red 40 and Blue 1 (artificial food dyes)
Pick One That Fits Your Dietary Needs
Are you looking to satisfy a craving? Fuel your workout? Or hold off your hunger till your next meal? Whatever your needs are, it's important to read the nutrition label to make sure you're getting what you need.
For example, if the main ingredient in your snack bar is carbohydrates, the bar will eventually break down into sugar and be stored as fat – causing you to crash and burn.
A nutritious snack bar should contain healthy fats (like almonds or cashews) and fiber (like chia seeds), which will keep you full till meal time. Most importantly, a healthy snack bar should contain a combination of micronutrients (carbohydrates, protein, and fat) and whole food ingredients.
Choose Real Foods
The secret to finding the healthiest snack bar? Choosing one with REAL ingredients. Natural whole foods contain essential vitamins and minerals, they're low in calories, and contain fiber and protein – exactly what your body needs to power-through the day.
Luckily, we've made it easy for you to snack healthy. Our superfood snack bars are 100% organic and contain 5-6 plant-based ingredients (yes, that's all!). No fillers, sweeteners, or artificial ingredients – only the best nature has to offer.
These pocket-sized, plant-powered nutrition bars are ideal to keep in your handbag, and of course your snack drawer. Try any of our three flavors:
CHOCOLATE LOVER: This Super Bar contains rich, chocolate flavor, mood-boosting superfoods, and is packed with antioxidants. Enjoy this guilt-free treat for breakfast, a daytime snack, and as dessert. Click here for ingredients!
SUPER GREEN: This refreshing lemon bar is naturally high in fiber and contains one full serving of nutrient-dense greens. Enjoy it as an easy breakfast, a snack, or before a workout. Click here for ingredients!
GOLDEN MELLOW: This stress-reducing snack bar tastes like pumpkin spice and contains calming superfoods like turmeric and ashwagandha. Enjoy it between meals or as an evening dessert. Bonus: it's rich in anti-inflammatory foods. Click here for ingredients!
Enjoy them on their own, or add them to your smoothie and oatmeal for a dose of plant-powered benefits.
Are you ready to unwrap wellness?
Curb your cravings with Chocolate Lover, combat stress with Golden Mellow, and sneak in a full serving of veggies with Super Green. All 3 include a full serving of our best-selling superfood mixes, absolutely no fillers or additives, and 100% organic ingredients.