CANCER & CHEMOTHERAPY : KRISTEL & MICHAEL

Our story, our resources, and tips on recovering from chemo. Plus, inspiring stories from Your Super members.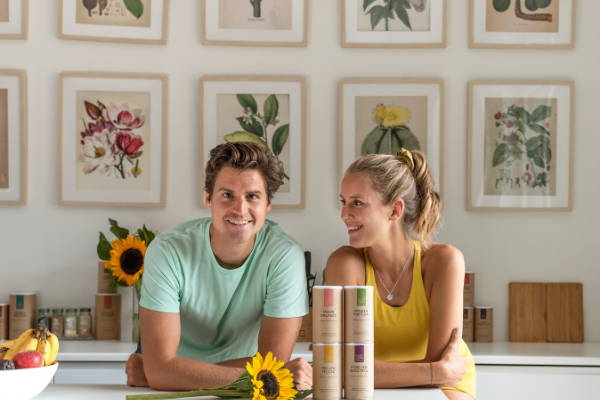 ---
I met my partner and co-founder, Michael, on the tennis courts. We were young, healthy and happy, until Michael was diagnosed with cancer at the age of 24. Soon after, he began the long process of chemotherapy, just like my mom and grandma once did.
After the treatments and surgeries were finally over, the doctors declared him cancer-free. Although we were overcome with joy, it was obvious that cancer had taken a toll on his body. His hair was gone, his energy was depleted, and his once strong physique looked weak and tired. It was at that moment that I knew I needed to help.
Determined to stay positive, I began to research ways to build Michael's immunity and learned that certain foods really can be medicine. It was then that I started buying bags of maca, wheatgrass, barley grass, chia seeds, spirulina, lucuma, and whatever else I could get my hands on. My cabinets were chaotic as my aunt Ellen, an orthomolecular nutritionist, advised me on what vitamins and minerals the body needs to heal.
For Michael, it was all a bit too confusing - he didn't want to go to the store to buy 30 different bags of strange powders he didn't know what to do with. So instead, I got jars and put a few different superfoods in each one to make it easier for him to know what to use. After weeks of mixing them in smoothies and drinks, his health started to improve and his energy and strength came back full force.
Michael and I knew we needed to share these superfoods (and information!) with the world, and that's how Your Super was born.
If you're reading this, you or a loved one may be going through a similar situation and you're hoping for answers. And while I would like to point out that I am not a doctor, only a plant-based health coach, I am happy to share some of my favorite tips and resources that accelerated Michael's healing.
Some things I learned:
Trust yourself and your intuition - you know your body better

than anyone else.

Ask your doctors many questions - and always get a second opinion.

Educate yourself - knowledge is power and there is so much information out there.

Eat more (super) plants! Certain fruits and veggies are

loaded

with micronutrients like vitamins, minerals, enzymes, phytonutrients and more that can improve your health.

Don't focus on eating perfect 100% of the time - just try to add a little bit of superfoods into your diet every day. It all adds up!
Unfortunately, there is no cure to cancer – yet. But there are foods out there that can promote better health. Michael began using superfoods after chemotherapy and he never went back. Now, as a plant-based foodie and superfood lover, he is healthier in his mid-thirties then when he was in mid-twenties.

Xo Kristel
Learn more on what to eat during cancer from Dr. William Li's Ted Talk and make sure to get his book 'Eat to Beat Disease' which includes a list of 200 foods to eat.

Learn more about what to eat during cancer from Kristi Funk's podcast recording on Be Sexy Eat Plants podcast and in her amazing book:

Breasts: The Owner's Manual: Every Woman's Guide to Reducing Cancer Risk, Making Treatment Choices, and Optimizing Outcomes

Chris Wark has a course on how to navigate cancer and doctors. And here are 20 questions to ask your oncologist.

The docuseries The Truth About Cancer is a great way to learn how to combine traditional and holistic practices together.

For alternative treatments centers, look into the Hippocrates Health Institute in Florida as well as the Gerson Institute in Mexico.

For mental support and an extra positivity boost Tony Robbins has a really great app!

Learn about the relationship between food and cancer by watching the documentary Forks Over Knives on Netflix. The Game Changers, What the Health and Cowspiracy are other great documentaries to watch.

Check out this e-book Cancer Survivors' Stories by Jonathan Chamberlain.

Kris Carr's book and movie—both called Crazy Sexy Cancer—are great resources. She has been living with cancer for over 20 years and talks about what lifestyle changes she made.
INSPIRING STORIES FROM THE YOUR SUPER FAMILY

Our Exclusive Member Group is an amazing community of people from all over the world. It's the perfect place to ask questions, encourage others, and share incredibly inspiring stories like the ones below:
"Micah had clear scans again Thank you, Your Super for being a part of his healing journey from the beginning! Micah has been on the Golden Mellow Mix and Super Green Mix throughout treatment and beyond. We add Magic Mushroom Mix the weeks before, during and after scans. We are crazy thankful to have great nutrition options."
-His mom, Heather
Read this article to learn more about Micah's story.
"Day #2 of the 5-Day Detox and going strong. I desperately needed a full body reset after battling cancer, going through chemo, radiation, 4 surgeries and all those meds. There is still a long road ahead but as long as I stay focused, determined and strong I will succeed and so can all of you!! The Green Sunshine Smoothie certainly lives up to its name, it's delicious!! Stay strong super friends and shine!"
-Nicole
Love. Surround yourself with an amazing support team (partner, friends, family) who are there for you, supporting you unconditionally throughout your healing process.  
Mindset. I am a big believer that what you believe and focus on is often what ends up happening. Do everything in your power to keep a positive mindset. I really like the Tony Robbins courses. You can listen to a small series for free here on Spotify.
Meditation. The power of the mind is incredible—especially when it comes to healing. If you'd like to learn more, watch the documentary, Heal. Sending energy to the area in your body that needs to heal and visualizing the tumor shrinking while breathing deeply is recommended. A daily meditation practice of sending your body healthy energy can also be helpful - check out apps like Calm, Headspace & Insight Timer.
Massage, Acupuncture & Sound Healing. Create space to calm your nervous system. Doing so helps activate your resting, calm, parasympathetic nervous system, instead of your fight-or-flight, high adrenaline, stressed, get-stuff-done mode. When you're calm, your body can heal better and find things that bring you to that state. Whether it's a massage, taking a bath, acupuncture or sound bath healing, explore and stick with a few routines that help you feel good.
Even on the toughest days, when everything seems uncertain, never lose hope. Hope can be one of the greatest allies to better health.
Remember to focus on the things you can control, and put energy into what brings you joy. We wish you and your loved ones healing, and a full recovery.
-Kristel and Michael
---